Steevie-Leigh's Story
Steevie-Leigh is a young singer whose star is swiftly rising. She has performed with the English National Touring Opera and has a first class Musical Theatre degree. As one of our first Trust Music Beneficiaries, Steevie is a fantastic ambassador for the multitude of benefits a music education bursary can provide.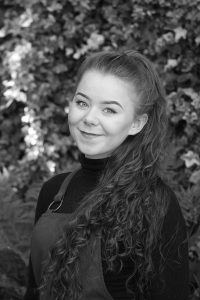 A Passion for Singing
"Singing in the school choir was the highlight of my week. One of my earliest singing-related memories was being given a solo to perform in Year 6 (primary school). It was a real turning point and, from then on, I knew I wanted to be a singer."
When Steevie-Leigh progressed from primary education to Sharples High School she met an inspiring music teacher and was given free singing lessons provided by Bolton Music Service. However difficulties at home threatened to interfere with her love of music – in Year 8 Steevie started living with her grandparents and so became a looked after child. Her grandparents took every opportunity to support Steevie and she started regularly attending Bolton Youth Choir. This opened up a new world for Steevie in which her talent quickly developed.
In 2014 Steevie began looking into the possibility of pursuing a career in music but experienced feelings of apprehension due to the major costs entailed in music courses and touring.
A New World of Opportunity
Having launched in 2014, Trust Music had begun assessing the need for funding amongst talented Music Service pupils. The charity recognised Steevie's potential and stepped in with the financial support she needed – making her one of Trust Music's first beneficiaries. Crucially for Steevie, Trust Music was able to provide a bursary which paid for weekly lessons leading up to her Grade 8 singing examination as well as the entrance fee for the exam. Without this support Steevie is convinced that the opportunities which followed would not have been open to her.
"The Grade 8 examination opened the door to my future career. As a result of the music training I had been given at Bolton Music Service I developed a wide range of skills in singing and composition. This enabled me to take specialist modules at university, where I created my own arrangements of musical theatre songs"
Steevie studied Musical Theatre at the University of Cumbria and was awarded a first-class degree with Honours in 2018. Her career has since gone from strength to strength – she has sung in the chorus of the English National Touring Opera and in 2019 secured a job with North East Producers in a two-person pantomime.
Passing on the Gift of Music
Steevie-Leigh is sure that the strong grounding she received in classical singing gave her an edge on some of her fellow students during university. She is grateful to Trust Music for enabling her to pursue this training.
Steevie is ambitious for the future, is learning to play the piano and will be starting a PGCE course in September 2020. Teaching has recently become a passion for Steevie and she wants to do something about the lack of equal opportunities in music education.
"Trust Music provided a backbone for my musical training and without this support I would not have been able to achieve everything I have done so far. I really understand how children can feel limited when few opportunities are available. Trust Music showed me a different world. It showed me that I could achieve. "
To help more children discover the Gift of Music, donate to our campaign here.